RIU Resorts
All-Inclusive Hotels
The Bahamas, Costa Rica, The Dominican Republic, Jamaica and Mexico

RIU . . . Service from the Heart . . . Beautiful Pristine Beaches . . . Sports and Entertainment . . .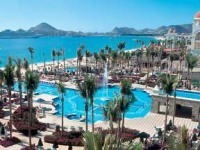 RIU Hotels offer the most unforgettable vacations in the Bahamas, Costa Rica, Mexico and the Caribbean's most beautiful beach resort destinations. The hotels feature a variety of restaurants and bars, daytime and evening shows and exciting outdoor activities for everyone from the youngest to the young at heart, and of course everything is always accompanied by exclusive service and unsurpassed 24-hour all-inclusive program.
All-inclusive RIU Hotels, a family-owned business, was founded in 1953 in Mallorca, Spain and is now an internationally renowned, growing enterprise with more than 100 hotels in 17 countries. Their hotels are known for affordable all-inclusive vacations with elegant accommodations and friendly service that features the most exciting beach destinations in the Bahamas, the Caribbean, Costa Rica, and Mexico and their goal is to exceed the expectations of their guests.
Call Judy and Maria's Travel, Inc.
Toll-free at 1-877-380-4142
to obtain a vacation quote or to reserve your vacation. Representatives are standing by to take your call or email:
[email protected]
Quote Request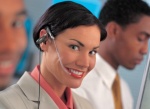 Policy on the Environment
Surrounded by an unspoiled natural environment, guests will be able to enjoy a fun, luxurious, and memorable vacation while respecting the native landscape and the architecture of its locale.
RIU … "Service from the heart and with heart"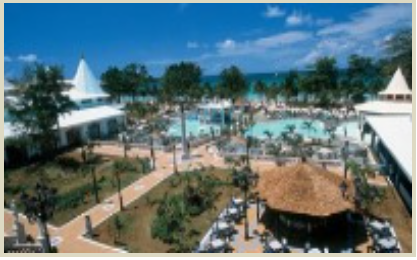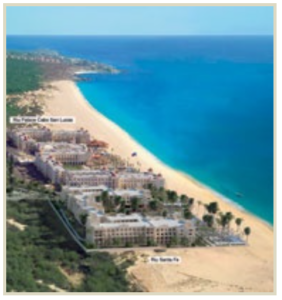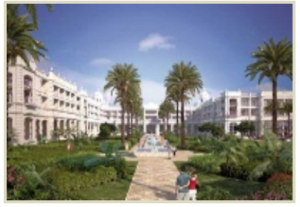 The impeccable service offered at all of the hotels is what has gained them a world-wide reputation as the leading hotel chain offering accommodations in the sun-drenched beach destinations of Costa Rica, Mexico and the Caribbean. From the moment you arrive until the moment you leave, the staff has your comfort and satisfaction in mind. The hotels are committed to attending to every detail, no matter how large or small
All-Inclusive Program
The all-inclusive program is renowned throughout the world for offering the greatest value to their guests. Their goal is to provide a worry-free environment offering guests gourmet dining, beverages and exciting activities to ensure families, couples or singles a pleasurable vacation.
24-Hour All-inclusive
Food and snacks 24-hours a day.
Unlimited access to the in-room mini-bar and liquor dispenser.
Sports
Beach volleyball
Ping-Pong
Billiards
Aerobics
Fitness Center
Unlimited access to the main and á la carte restaurants
Nightly entertainment including live music and theme shows
and so much more!
Accommodations
Accommodations have been designed and equipped to provide maximum comfort and convenience. Beautifully decorated and furnished, all elegantly appointed rooms and suites feature:
King or double beds
Air-conditioning and ceiling fans
Satellite television
Telephone
Mini-bar and liquor dispensers
A safe for your valuables
Fully equipped marble bathrooms
Furnished balcony or terrace
and much more!
Restaurants
Guests will experience flavors from around the world, all under one roof. Whether you choose one of the many gourmet á la carte dining options or savor the vast selections featured at the International Buffets, guests will enjoy exquisite dining prepared by world renowned chefs.
Bars
There is hardly anything that is more relaxing or delightful than enjoying a tropical drink, alcoholic or non-alcoholic drink, at the pool or overlooking the ocean or while experiencing exciting nightlife. And, remember, those drinks are all part of the All-inclusive.
Entertainment
The activities staff has created an endless number of activities for you to enjoy during your stay; activities for families, couples or singles that range from daylight games and sports through exciting nightlife.
For Sports Enthusiasts
Beach volleyball
Tennis
Billiards
Ping-Pong
Gym,
Sauna
Jacuzzi
Dive Center*
Sailing*
Windsurfing*
Kayaking*
Parasailing*
Jet Skis*
Water skiing*
Horseback riding*
Golf*
Live music nightly
A variety of theme shows
The Pacha disco
*for an additional cost
Spa . . Your Chance to Be Pampered
A vacation is the perfect time for relaxation and renewal; a time to pamper yourself in preparation for a return to the daily grind back home. All spas have been created to restore energy, smooth the skin, and relax the mind and body. The hotel's expert spa staff will advise and guide you in the selection of the best treatments in order to enable total relaxation and restoration of energy.
Weddings
Your wedding day is the most important day of your life and should be the most memorable. The professionally trained staff will attend to every detail of your wedding, allowing you to relax, attend to your guests, and remove the stress from your special day.
Beautiful pristine beaches . . . exotic tropical gardens . . . stylish, comfortable accommodations . . . international cuisine plus local delights . . . sports and entertainment that only stop when you do .. . spectacular destination weddings! Shop on the famed "Caribbean Street", also offering guests a gym, Pacha Disco (entrance included), four lit tennis courts, and much more! From action-packed to laid-back enjoy a luxury vacation just for you! Whichever hotel you choose, you will be pampered by the professional staff. Choose an all-inclusive vacation where everything is included!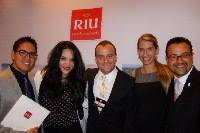 Judy & Maria's associates at the Apple Vacations Awards Gala in Chicago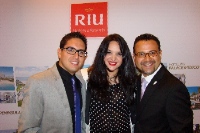 Thank you for taking great care of Judy & Maria's clients!
All-Inclusive Vacations . . Just for you! Riu Reservations 1-877-380-4142
| | | |
| --- | --- | --- |
| ADULTS ONLY by RIU |  RIU CLASSIC | RIU PALACE |
| Welcome glass of sparkling wine |   | X |
| Bathrobes |   | X |
| Free Wi-Fi through the hotel including pool and beach areas | X | X |
| International alcohol brands | X | X |
| Premium wine list | $ | $ |
| Romantic dinner on the beach upon request | $ | $ |
ADULTS ONLY BY RIU
RIU PALACE
MEXICO
RIU Palace Los Americas

RIU Palace Peninsula (Adult Section)

RIU Palace Baja California (New Opening)

JAMAICA
RIU Palace Jamaica
ARUBA
RIU Palace Antillas

DOMINICAN REPUBLIC
RIU Palace Macao

BAHAMAS
RIU Palace Paradise Island

RIU CLASSIC
JAMAICA
RIU Reggae

DOMINICAN REPUBLIC
RIU Republica

| | | |
| --- | --- | --- |
| BRANDS | RIU CLASSIC | RIU PALACE |
| All-Inclusive 24hr Unlimited meals, snacks and drinks | X | X |
| Unlimited dining at specialty restaurants | X | X |
| Show cooking style main buffet | X | X |
| Unlimited use of in-room minibar & liquor dispenser | X | X |
| Non-motorized water & land sports, daily activities and live nightly entertainment | X | X |
| Unlimited Free Wi-Fi in the lobby and common areas | X | X |
| Unlimited Wi-Fi in the rooms |   | X |
| 24-hour room service |   | X |
| International Alcohol brands |   | X |
| Junior Suites and Suites only |   | X |
| In-room coffee maker |   | X |
| Champagne breakfast |   | X |
| Krystal Restaurant – Fuision Gourmet Cuisine |   | X |

RIU has created Splash Water World, an aquatic, entertainment funplex located in select hotels and created exclusively for RIU guest. This brand-new water park offers a variety of rides and attractions for a thrilling new adventure the entire family will love. RIU boasts four SPLASH aquatic parks which are free for all guests vacationing at the following hotels:
RIU Complex Punta Cana
Dominican Republic
RIU Republica Adults Only
Dominican Republic
RIU Dunhamar Costa Mujeres
Mexico
RIU Santa Fe Hotel Los Cabos
Mexico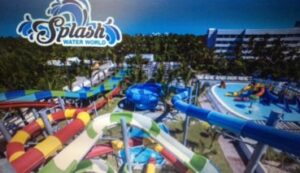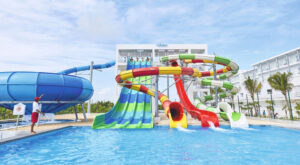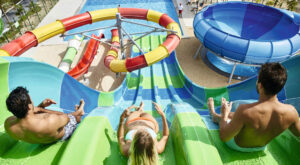 Testimonials
Hi Maria,
I want to say thank you for the wonderful service you always give me! Whether it is my husband and I going on a trip for two together, the annual "Girls Trip's" I take with my two daughters, or our family trips for six, you always give 5 Star, top notch service. You know exactly which resorts to recommend for the type of trip we are looking for. I highly recommend you to all of our friends and family!!
The service you and Judy gave me during the recent Polar Vortex, when I had problems at the Chicago airport was such a comfort to my husband and myself. You ladies go above and beyond. I just want to say thank you and YOU ARE THE BEST!! We are looking forward to our upcoming family trip to Secrets Playa Mujeres. We know it will be wonderful because it was recommended by you!
Pam F.
Kenosha, Wisconsin
February 2019
_______________________________________________________________________________________________________
Judy and Maria,
Our annual winter vacation to a warm climate was planned with the help of Judy & Maria Travel. We've found the Dominican Republic is a perfect destination. This year we asked the travel agents to upgrade the resort and they gave us a few suggestions. We chose Dreams Palm Beach (appropriately named) upon the recommendation of our 13 year old granddaughter who loved the Smoothie Bar. We also heard Coco Cafe was extraordinary. So off we went….
As with all travel, patience and a sense of humor are essential – encountering a closed turnpike due to an accident on our way to airport and losing my jacket with matching tote bag within 15 minutes of entering the airport began our vacation.
We are now in the minivan headed to Dreams with one other couple going to the same resort for a second time. They had upgraded, but we told them we had not. Arrival at Dreams became a whole new (but quite lovely) experience. As we entered the resort we expected to check in at front desk to get the plastic ID bands and redeemable beach towel cards. Oh no, the staff whisked all of us minivan travelers to an office setting and proceeded to explain what "Preferred" guest meant. We were dumbfounded and tried to explain, unlike the other couple, we had not upgraded. Dreams staff had computer printout indicating we were wrong. Okay, not the first time we have been wrong, so we decided to go with "Preferred" which sounded mighty good and enticing.
A stylishly dressed staff (later we found out this was one of our butlers) now escorted us to our room. Along the way he pointed at pools, beach areas, and other beautiful places. Another oh no! Our room wasn't a room but a suite with a large bedroom and a dining/living room combination. Best feature, one full bathroom and one half bath. After 54 years of marriage first vacation without arguments because we could barely find each other in this huge space. Two bathrooms is indeed a dream.
Although we thought that Judy and Maria were the sponsors of this glorious trip, we had no real proof until day 6 (we are very slow learners) when the butler asked if we knew Judy and Maria. So these gracious and kind travel agents were indeed our benefactors. We are the "in-the-dark-tourists" but enjoying every moment at this gorgeous resort with a friendly and competent staff.
Back home to the cold weather we are eagerly planning our next Dreams vacation. With 3 grown sons, their wives and 4 grandchildren we are trying to coordinate a family trip which is not easily done with busy schedules. We've traveled extensively over the years (100 countries for me and over 40 for hubby – yes I didn't always take him), this trip was most memorable. In our mid 70's we want what Dreams offered – luxury, serenity, beauty. Even the weather was perfect. How did Judy and Maria do that?
A sincere thank you and deepest appreciation to Judy and Maria….until our next trip! Meanwhile how will we manage without a butler, dinner reservations and evening turn down services?
Regards, Bob and Lindy
Harrisburg, PA
February 2019